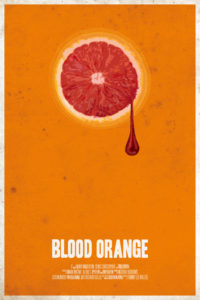 Blood Orange
Title suggestion from Tigs.
We open on an orange grove. Florida. Sunny and hot. A man wearing a sweat-stained white T-shirt walks into the frame. Hes got perfectly messed up hair and is the weird looking actor who plays Pete Campbell on Mad Men (Vincent Kartheiser). He has a reporters notebook sticking out of his back left pocket. Hes a bit nervous. He chews the cap of a blue Bic pen and twirls the pen in his right hand.
We follow him walking down rows of orange trees, camera close on his back, for what feels like an hour. Movie credits every single movie credit, even for things like art direction and costume designer appear on the bottom of the screen in bright white letters like movies used to do in the 1960 and 1970s and cool directors like Tarrantino still do today. Off-key ambient music plays.