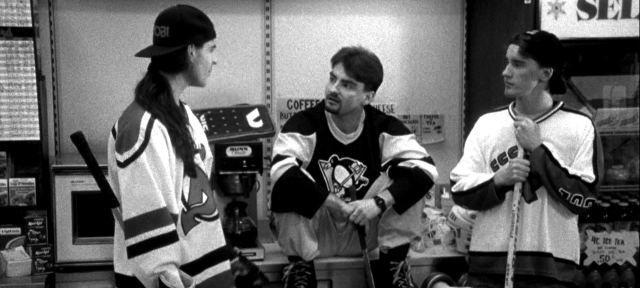 There have been a lot of snarky posts at movie new sites about Clerks 3, and no one has really gotten the story completely right. I should preface this post by saying that I've been a huge Kevin Smith fan for years and I listen to far to many of his podcasts. I will say that I get the Kevin Smith hate to some degree. He does have some gross personality flaws and has severe technical filmmaking limitations. In terms of his personality flaws, they are nowhere near as troubling and off-putting as those of his podcasting contemporaries (Adam Carolla, Marc Maron, and Joe Rogan come to mind). In terms of his filmmaking, it sort of feels like going to see your friend's band–maybe they aren't the best band ever, but of course I'm going to go support them and enjoy the music.
Which brings us to Clerks 3.

Kevin Smith has a self imposed limit of the number of films he will direct. This seems pretty silly to me, but whatever. Originally Hit Somebody was going to be his last film and he talked about doing Clerks 3 in some other medium such as a play. Because he is turning Hit Somebody into a miniseries, Clerks 3 will now be his last movie.
People seemed to completely miss this part of the story, but there is no guaranteed that Clerks 3 will be made at all. Clerks 3 will only be made if everyone agrees to come back, specifically Jeff Anderson. Jeff Anderson had to be convinced to do Clerks 2. All the main players (Jeff Anderson, Brian O'Halloran, Scott Mosier, Jay Mewes, and Kevin Smith) all agreed to $100,000 and a share of the profits. Kevin Smith ended up giving his $100,000 to Anderson to finally convince him. The problem is that they never got any money from the backend because of the shitty movie math of the Weinstein Company. Anderson, who never liked the Weinsteins, has even more reason not to like them considering they were keeping money away from him that he was rightfully owed. Clerks 2 was made for $5 million and grossed I believe around $30 million, so clearly it was profitable.
What is happening now is that The Weinsteins have been sued and are being audited to try to get the money that everyone is owed. At this point it looks like this will be successful and be finished soon, but there is no guarantee. Jeff Anderson has said flat out that he would not do Clerks 3 until the mess has been cleared up, and because Kevin Smith will not make Clerks 3 unless everyone agrees to come back, Clerks 3 is in limbo.
This is the proper context for Kevin Smith's talk about making Clerks 3 into a novel. He has a story to tell, and want's to tell it as a film, but if for whatever reason he is unable to do that, he would turn the story into a novel.
With all that in mind we can look at some of the flights of fancy Smith has been taking recently. Without the context people have been reporting stories that imply that he doesn't know what he is doing and is just flailing around, which I don't believe to be the case. His new idea would be to write it as a novel and release chapters of it over time as an ebook. This would pump of the excitement for the film (which would still be getting made) and allow fan participation, by letting people shoot little scenes from the novel. At that point, some of the best fan generated clips could play over the credits of the completed Clerks 3 film.